Latest news
At last our 1924 Le Mans Bentley is finished 09/03/2023
New Painted Special! 26/01/2023
New Kit Available! 20/01/2023
The first news of 2023 19/01/2023
Back to work! 04/01/2023
Seasons Greetings and Happy New Year! 15/12/2022
News
Now come on everyone
12/09/2019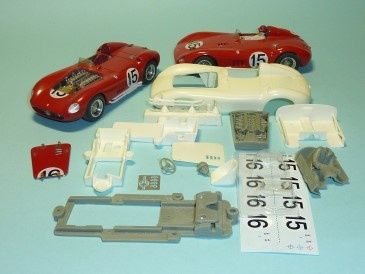 Now come on people, the holidays are over. Lady Lynda and I have had ours and we are all back at work. So I think it is about time you all started buying our super duper models again. Before we get to a position where I cannot afford to drink beer. This would make me very grumpy and effect my model making prowess (or what is left of it). We have sold one model in the last month, a Morgan, not good. We have not released any new models for a while because the Transporter kept us busy and fortunately the tyre situation is now resolved, we have lots of nice tyres.
We are going to be releasing our 1955 Le Mans Maserati 300S, the early short body car, and in my oppinion the prettiest. It has been improved and upgraded with extra parts. It will come with engine detail and the option of a more detailed full interior without the driver. This will be useful if you would like to combine it with the transporter or make a static model. It will still have a driver figure if you wish to make a proper slot car.
I am working on a totally new model and surprise it is not one I mentioned before. It is an Aston Martin DB3S 1955 Le Mans car. As you can see it is coming along and Joe says I have to get it finished before I can get on with anything else, or he will stop my beer allowance. It will take about a month to get it sorted, artwork etc. usually holds things up for a bit.
The 1958 LM Maserati will be going out of production, joining the Ford Galaxie and Lotus Cortina which recently ended their run.
Anyway Buy Stuff! Please? Cherry on top?