Latest news
New Painted Special! 26/01/2023
New Kit Available! 20/01/2023
The first news of 2023 19/01/2023
Back to work! 04/01/2023
Seasons Greetings and Happy New Year! 15/12/2022
My first show in two years, new models, and the cull 01/12/2022
News
Not long now until Gaydon
27/04/2017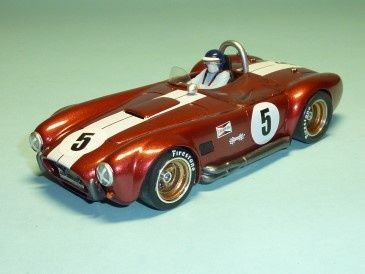 Not long now until the Gaydon Slot car Festival, but this Sunday I will be at the Orpington swapmeet so let me know if you wish to pick up any models and I will put it aside for you.

The Cobra is back with its much improved new chassis and better detailing. Of course it has a little bit of widening so it looks great, but the scale police won't like that. If it had Ninco writted on the base it would be ok, of course, and be allowed to race. Why is it that a plastic Ninco or Carrera etc. car can be wide as they like and be perfecty legal. But I'm a bastard for putting a couple of mm in my Cortina. Yes I know I go on about it but it gets right up my nose. Ho Hum.
My MGC Sebring has been put back in the mould and should be ready for Gaydon and at last I am getting on with my latest Auto Union model. The Louvres are going in and I should have some photos next week, it is looking pretty good.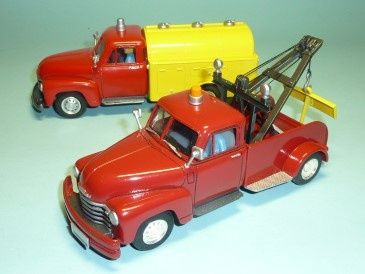 The Chevy Rec Truck and Tanker are also finished and just need the decals done. I think they look fantastic and if we get a good response I think maybe a couple more similar vehicles are on the cards. Maybe a 50s Artic or a flatbed to put a car on. A van might be good, quite fancy a Bedford or how about a fire engine (Note from Joe: One step at a time Dad), let me know.
I still have about half a dozen models blocked out so I guess I need to finish a couple of these. The Cunningham C4RK is crying out to be finished.
A bit of good news concerning headlights. We have got some new clear resin which works ver well so we will be going back to clear headlight lenses where possible. This I know will please many of you. You never stop learning in this game.