Latest news
The Owlet is finished/ The Cull Returns 23/11/2023
Another painted special and the owlett underway 09/11/2023
New Kits Available! 02/11/2023
Two more oldies 27/10/2023
1.24 Anglia Now Available! 20/10/2023
Darracq chassis issue 13/10/2023
News
New Models Well On The Way.
11/10/2016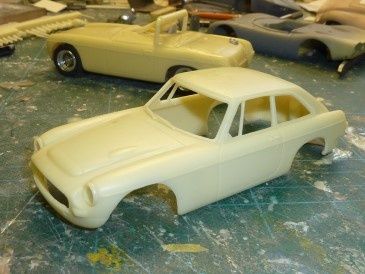 The Lister Jaguar is a couple of days from being finished so hopefully by the end of the week I should have it in the mould. The first version is the 1958 Le Mans car, I have not decided on the next version yet though. Our running gear set 1 will be suitable for the model as well. We should also have our MGCGT road car in production very soon. A roadcar without any racing numbers... It will be interesting to see how it sells as you know my feeling on making roadcars. So whats next, well next week we have to remake some moulds. The BRM has been very popular so new moulds for that one plus a couple of others. Then on with another new model. Still have the Cunningham C4RK to finish and the Alfa T33, Lotus 30 and the DBR1 but that is a bit further off yet, but the shape is there. I have not forgotten the A series Connaught and the Frazer Nash.
No rant this week, too busy (un)fortunately.