Latest news
Marcos is taking shape 23/06/2022
The Mini Marcos is underway again 09/06/2022
A New Painted Special and more 27/05/2022
Online Ordering 20/05/2022
Decals have arrived! 12/05/2022
New Kits and Track Update 06/05/2022
News
Mustn't annoy anyone this week
26/01/2018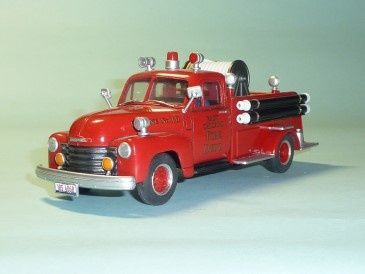 This week the Chevy fire truck is ready, at last, and will soon be on the truck page. As a slot racer I doubt it will win many races but a slot vehicle it is and it does look superb on the track.
The Bedford CA is almost finished and looks very pretty. It uses a pod chassis with a drop arm for the guide so it should work pretty well. I am hoping to have it in the mould next week.
You may have noticed the little Ferrari 500 F2 which is also nearly finished and I am hoping to get it done in the next few days. It is a proper little racing car.
In the next few weeks will see the first of our new Listers available. This will be the Archie Scott Brown car which will be a totally new casting to the Le Mans car. It looks great in green with the big yellow stripe. This still leaves two more Listers to be released. The Targa Floria Alfa T33 is also nearly done but I must finished the bloody C4RK and get some more new models started.