Latest news
New Painted Special! 26/01/2023
New Kit Available! 20/01/2023
The first news of 2023 19/01/2023
Back to work! 04/01/2023
Seasons Greetings and Happy New Year! 15/12/2022
My first show in two years, new models, and the cull 01/12/2022
News
Marcos is taking shape
23/06/2022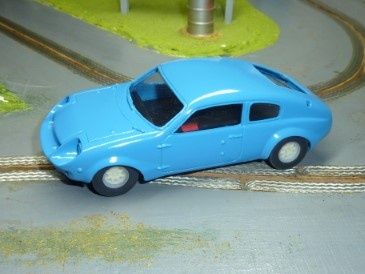 Our little Le Mans Mini Marcos is taking shape nicely, all the moulds are done and as you can see I have put a lick of french blue on the first casting. The 3D printed chassis works well so just the decals to do and that will be soon with any luck. I have a bit more detail work to do on it but we are nearly there. I have decided on my next model and it is..... wait for it..... a Volvo PV544, followed by a Ginetta G4 from one extreme to another what.
Some important news for you all, Pendle Slot Racing have taken on four of our models. The MGB GT, Ferrari 356, Le Mans Chaparral 2D, and an Auto Union will be up for sale from them soon. All have been modifed to take Pendle running gear. If you missed them the first time around you have another opportunity.
I will also have a new RTR Painted Special done in a few days, a T33 Alfa Romeo Targa. More on that in a few days.