Latest news
New Painted Special! 26/01/2023
New Kit Available! 20/01/2023
The first news of 2023 19/01/2023
Back to work! 04/01/2023
Seasons Greetings and Happy New Year! 15/12/2022
My first show in two years, new models, and the cull 01/12/2022
News
Lots of new stuff on the bench
25/05/2017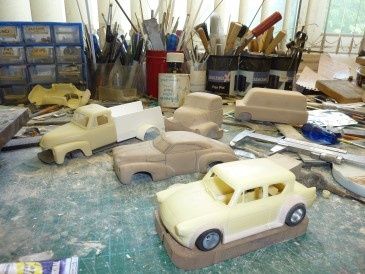 No new models this week, but there is lots of new stuff on the bench as you can see from the pics. The Holden Efigy is coming on nicely and I am in the process of grinding out the solid model so it is a nice thin shell. This is a tricky operation and yes I do sometimes grind right through the shell, but nothing a bit of P38 filler can't put right. It takes about two days to grind out the shell and it is an extremely dusty job but has to be done. With any luck the Holden should be on its wheels next week. I do realise this model is not everyones cup of tea. It is a bit of a one off but I love it. Not a lot of variations to be done so I guess you've got purple or purple if you are sticking to the real thing.
So what else is on the bench? I have one super duper modified Anglia. I had to do it as our Mega Imp was all lonely and needed a friend... or rival. This Anglia has big arches and is much lower than the normal car. The scalies will hate it.

The Chevy Coe truck is also coming along, got a couple of ideas for this one... a flat bed car transporter first, then maybe an artic. That could be interesting. I have blocked out our Bedford CA van. Again something a bit different, lots of different liveries could make this an interesting slotcar (slotvan)
I am also making a Chevy fire truck so some odd projects I will admit but hey got to try a few different things. I will get back to racing cars soon, I still have an Aston and Cunningham to finish.
Our hearts go out to Manchester.