Latest news
The Cull Sale Underway 30/11/2023
The Owlet is finished/ The Cull Returns 23/11/2023
Another painted special and the owlett underway 09/11/2023
New Kits Available! 02/11/2023
Two more oldies 27/10/2023
1.24 Anglia Now Available! 20/10/2023
News
Last week it was our moulding shed, this week...
10/10/2019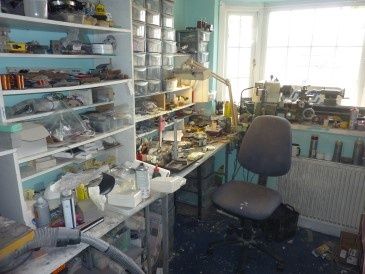 Last week it was our moulding shed, this week it is my ultra high tech work box (sorry, room). As you can see I have all the latest mod cons. A cardboard box spray booth, I probably need a new box. A very old lathe on the window sill, a small bandsaw or spray can shelf, a chair (which is very important for sitting on), a disc sander for making lots of dust just before a bit of spray painting and lots of crap everywhere. Untidiness is a good thing, do not trust a tidy modelmaker, mess is good. It does make me laugh when someone visits my workbox and they say it may be untidy but I bet you know where everything is (Joe: Laughs hysterically). Load of bollucks, I cannot find a bloody thing. I have six scalpels on my bench and I can never find one when I need it. 5 rules (not rulers) and god knows how many files, pliers, screwdrivers, sanding blocks etc. The trouble is the mess spreads out into the rest of the house which makes Lady Lynda very grumpy as she is a very tidy person.
Toy news: The Aston DB3S body work is finished, the artwork is underway so as soon as we have decals it will be out for sale. So get your orders in quick as I need money to buy stuff. Also the Porsche and MGB are done and the GT6 is being worked on plus a couple of projects I am working on in conjunction with Gareth at Chase Cars. But more on that in a couple of weeks. I have about 15 models on the go at the moment, we are hoping for around 6 new models before Christmas. A couple might surprise you!