Latest news
New Painted Special! 26/01/2023
New Kit Available! 20/01/2023
The first news of 2023 19/01/2023
Back to work! 04/01/2023
Seasons Greetings and Happy New Year! 15/12/2022
My first show in two years, new models, and the cull 01/12/2022
News
Keeping Quiet
26/06/2020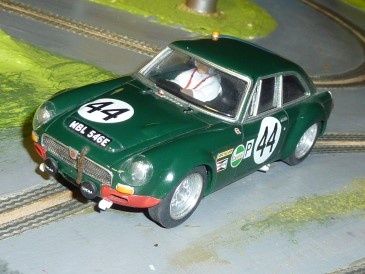 We have kept a bit quiet lately so we could catch up with orders and we are just about up to date. While we were busy we have not released any new models. While Joe was moulding and fulfilling orders to every part of the world (almost) I have been filing and scraping at a few new models. But first we have some planned re releases, we have reworked our Lancia D24 Pan American car with an updated chassis and much ligher body. If you missed it the first time, order as soon as it is released or I may take it away again out of spite! The second re release is our MGC Sebring (MBL546E). I do like this model and I am glad it is coming back in the range. Remember if we bring these cars back for you folks and they do not sell, we will have no choice but to send the boys round, socially distanced of course.

Another version of the D-Type Jaguar is ready, this is the 1956 Le Mans winning Ecurrie Ecosse car, which is a completely new casting and is very pretty.
Also a new trailer is nearly ready, this will be a small Fuel Bowser and will look perfect in a pit setting on your scenic circuit.

Right, back to the completely new stuff, the Frazer Nash Le Mans replica is coming on nicely and our Corvette Gransport Roadster is ready to mould but still needs artwork. The Commer van is done and just waiting on artwork at the moment so as you can see we have been extremely busy.
Once these cars are released we will have around 150 cars in the range. The cull looms once more and lady Lynda does get grumpy finding moulds everywhere.

I also have blocked out some more cars including an Austin Healey 3000 rally car, Sunbeam Alpine and a Le Mans Tiger. PLus I still have the others sittingon the bench, Vauchall Firenza, Ford Pick Up, Austin 1800, Fiat Balilla and a few others lying around somewhere, must try and find them.

Our EE Transporter is on hold for the time being while some people are still furloughed, and it is waiting for parts but it is on its wheels and as soon as the photo etching is done we will get it going.

Little bit of news about postage costs. We have revised our postage rates to reflect recent increases in the cost of shipping, it is something we have been putting off for a long while but could no longer ignore it. This will be especially noticeable for any USA customers as changes in the 'last mile' delivery charge have led to huge jumps in the price. Unfortunately this is out of our control, but we will keep the postage rates under review should the pricing situation change.
At the moment the world situation means that 95% of commercial flights are grounded and as most post goes on commercial flights this has meant carriers are having to charter planes which is leading to additional increases in prices and quite a few delays (more than 6 weeks in some cases).
We thank our international customers for their patience while this is ongoing.