Latest news
Maserati 151 coming along nicely 23/09/2021
We have finished making our EE Transporter gearbox 09/09/2021
New Kit now available! 02/09/2021
The 1934 Singer Le Mans is finished 02/09/2021
Our New Firenza Prototype is Finished. 24/08/2021
It's Done! 03/08/2021
News
I do not stick to plans
28/06/2018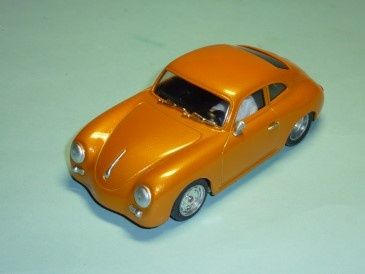 Now as you may have noticed, I do not stick to my model plan. So it is of no great surprise that new models get produced that I did not intend to do. When I originally made my Bedford CA van I did not intend to turn it into a pick up, but hey presto a pick up you now have and I think it works pretty well. It will be going on the products page very soon, with a recovery vehicle version soon to follow. This like the other Bedford has an inline pod with a drop arm so it should whizz around the track.
We have reworked our little Porsche, so it now has a more up to date pod chassis and you can make it even lower if you wish. I think it looks brilliant in Ford Electric Orange, pearlescense with a clear lacquer over the top if you wish.
Now there is always talk on facebook about what is the best way to paint a resin model. You can go to our hints and tips page for my method. It works and no airbrushes involved. It is not that I cannot use an airbrush, believe me I am pretty good with one, after all I ahve been a professional model maker for nearly 50 years but the Aerosol spray cans from Halfords in the UK are bloody good. Tamiya are also very good. I know there are lots of other makes but there are very few I have not tried. You may have a different method that you swearby, but I like to keep it simple.
A bit like removing paint from a resin bodyshell. Don't mess about, dip your bodyshell in cellulose thinners and brush off with a half inch paint brush, takes a couple of minutes. The good thing with this method is that it also gives a good finish in the resin when you repaint, as it very slightly attacks the surface of the resin, giving it a key. Remember I have been doing this for years, and I am lazy, so the best method is usually the quickest. Why leave stuff in a bag over night when it can be done in 5 minutes?
Fillers, again do not mess about. I make loads of mistakes, hard to believe I know. But every prototype I make has filler on it somewhere. I remember a few years ago a model maker saying that he did not use filler as he didnt make mistakes, bullshit. He was a p**** and still is. Oh yes, Isopon P38. Anyway that is enough for now and for some reason I am making a Ford Falcon Ranchero, should be ready soon.

Note: Joe is going to be on holiday next week for a few days so that means nothing is going to get done. Thank you for your patience.
Another Note: The track has been sold, glad to have it go to a good home.