Latest news
New Painted Special! 26/01/2023
New Kit Available! 20/01/2023
The first news of 2023 19/01/2023
Back to work! 04/01/2023
Seasons Greetings and Happy New Year! 15/12/2022
My first show in two years, new models, and the cull 01/12/2022
News
I am easily distracted
18/08/2017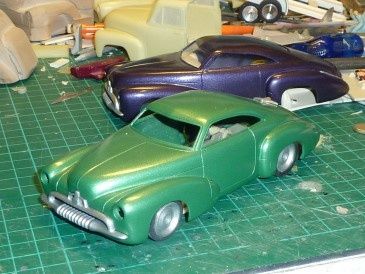 As some of your may know, I am easily distracted. I did mean to get on with the Ford Pop this week, but the Efigy is still not quite finished. Headlights and mirrors are still to be done but it is looking pretty damn good. It is something completely different to most slot cars, a one off with no racing history, but a chance to do your own thing. Use your imagination you wil lot.
Thought I would also put a proper resin interior in my Mclaren M1A, the vac one was Ok but the one in the Lotus 40 looked rather good so I have upgraded the McLaren to th same standard. A big improvement and even though I probably won't sell anymore but I like it. I will probably upgrade another one or two of my models, interior wise.
I did say I wasn't going to make any more 50s Chevys but I feel the need to make a Chevy van. I have got the front end so a back bit should be fairly easy for a man of my limited talents. It will also be a great tow vehicle, with our little trailer and still great for customising.
So what will I finish or get on with next week. Well we have a few moulds to replace which is very boring but neccesary/
How about a Delorean?