Latest news
Marcos is taking shape 23/06/2022
The Mini Marcos is underway again 09/06/2022
A New Painted Special and more 27/05/2022
Online Ordering 20/05/2022
Decals have arrived! 12/05/2022
New Kits and Track Update 06/05/2022
News
Grrr
11/03/2021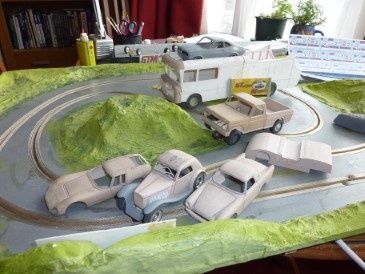 Now as you know I do not have a bad word to say about anyone (except maybe certain large manufacturers) but now and again the odd individual niggles me. I think most of us prototype model makers have a mutual respect for each other, many do fine work but when one individual has a go at my Hillman Imp I get slightly miffed.
I have made 3 versions of the Imp based on real cars and all three are not shabby models, but according to this individual they are inaccurate or wrong. Not quite true. But what can I say... arrogant twat. Yes that will do.
So back to my lovely new inaccurate slotcars. Our little MG I should be finished prototyping next week and good news we will be getting decals for our inaccurate Lotus 23 in a few weeks. The artwork is also done for the Sunbeam Alpine, Maserati 151 and the EE transporter (the photo etching for this is also underway). When i receive the checker plate I will finish the transporter, I wanted to have it done for Gaydon last year then Covid raised its ugly head, so hopefully done for May this year, even though the show has been cancelled. I have also started 2 more models, the Lotus 19 you know about but the other is a surprise even to me...