Latest news
Important Notice... 05/06/2023
The Beast has proven to be very popular 25/05/2023
Beast of Turin Update 28/04/2023
At last the Beast of Turin is up along with more! 21/04/2023
Lots of new stuff coming along 06/04/2023
At last our 1924 Le Mans Bentley is finished 09/03/2023
News
Gone off on a tangent once again
18/04/2017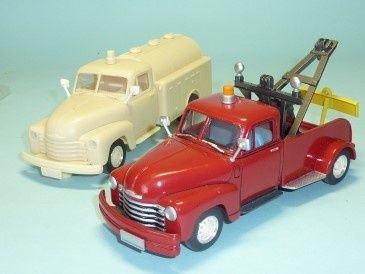 Gone off on a slight tangent once again. I am so pleased with the way my Chevy Rec. truck is looking, lo and behold I ended up making a little gas tanker. I think it looks just as good as the Rec. Don't forget that both will be working slot cars, with all the normal motors, wheels, tyres etc. In fact we have made wheel inserts for the fron and rear that fit the Pendle 15'' wheel and the 6x24 tyres, looks just right. We won't have any artwork done until the first week of May so they should be ready for the Gaydon slot car festival. Initial reaction has been very positive. They will cost a little more than our standard cars as, you guessed it, they're big and need a lot of moulds.
The Lotus 40 is done and will be available very soon. It is surprising how many changes there are from the Lotus 30, the body is a completely new casting. But again it looks fab and I don't think it could be any lower if I tried. Also the AC Cobra is making its way back with a new inline pod chassis and a much improved and more detailed body casting. More bits to lose when racing, so that'll be fun. With these projects out of the way I really must finish the Auto Union, I think four good working days would see it done. That's usually the plan I guarentee it will take longer. But it must be ready for Gaydon.
Now comes a little moan. Only a little one. I sell kits right? If you wish to buy just the body shell it will cost exactly the same as the kit, however as I am so generousI will throw in the other parts for free. I am such a nice man.
So what is next I hear you ask. We will be recasting our MGCGT Sebring, this will be the scale one (don't get me started) and will be the 1968 Sebring No. 44 car. We might remould the handling one as well, we shall see. As far as new models, the Holden Efigy might be next but it could be an Aston or the C4RK as I have decals for both of these.