Latest news
Progress on the Owlet 28/09/2023
New Edwardian Chassis 21/09/2023
Redesigning our Edwardian chassis 14/09/2023
1.24 Anglia moulded 07/09/2023
Three New Painted Specials! 24/08/2023
New Kits Available! 18/08/2023
News
Getting on with the Pop
15/09/2017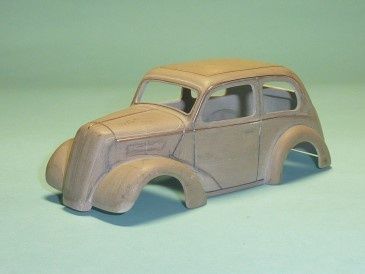 I have been getting on well with the For Pop. The body shell is more or less there, all hollowed out to a nice thin shell. Grinding out a body is never a nice job. First I mill out as much as I dare, without squashing the model in the vice. Then it is all down to grinding the rest out with a flexidrive. This usually takes about a day, a very dusty, messy day to get the shell down to 1 and 2 mm thick all over. If you can see light through the shell it is about 1mm thick and no resin prototype should be any thicker than this. That is not to say some of my shells in the past were not thicker than this but now this is my aim where possible.
This little Ford Pop is going to look great and I already have a nice wheel insert sorted for it. So with any luck another completely new model will be finished next week, with the hot rod to follow.
Our new decal sheet is still a way off at the moment, so the release of new models is being held up. The Holden Efigy is done and looks superb but needs its badges.
Next on the cards is to get the Cunningham C4RK done and dusted, told you we would get around to it Greg.