Latest news
New Painted Special! 26/01/2023
New Kit Available! 20/01/2023
The first news of 2023 19/01/2023
Back to work! 04/01/2023
Seasons Greetings and Happy New Year! 15/12/2022
My first show in two years, new models, and the cull 01/12/2022
News
George Turner Models, The Multinational Corporation
04/10/2019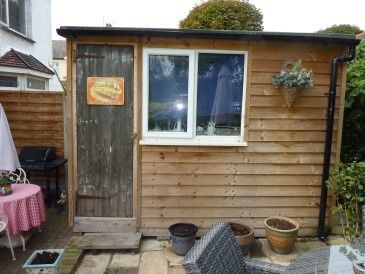 Now as we all know George Turner Models is a multinational business with a turnover in the millions and a large highly skilled workforce with vast modern premises, with state of the art technology and the latest in computer aided design tech. Oh hang, I have woken up, damn it was all just a dream, the reality is somewhat different. We have a total workforce of two, myself and Joe. Our moulding is done in a shed in the back garden and my workshop is a 2x3m box room at the top of the stairs. Joe has loads of fancy tech in the shed though, he has some scales, measuring pots, a vac tank, lights, a portable heater or jumper for when it's cold, a radio, and oh some stirring sticks to mix the resin. I have a 45 year old lathe and milling machine, a little sander and a flexi grinder, plus a few scalpels, files and a few pointy sticks. I do have a spray booth, a cardboard box, and for extraction I open the window. So if your kit takes a week or two to reach you please remember there is only one person, Joe, producing the kits from scratch, plus doing all the admin and emails. I make the prototypes all are varved by hand using a material we call cooling board. A prototype can take up to a month to complete, that is a lot of milling, filling, scraping, sanding and proding with a pointed stick. Not to mention the artwork research and going oh bollucks that does not look right and popping a load of P38 on it to get the shape a little rightier.
So when we make a new model how many do you think we sell? 100-150? Nope, if we are lucky we will sell 30 on a first run then a few a month over the next year or so. Selling 50 of a model is a result. So why do we do it? Well I guess it is better than working (says the person who doesn't do the admin). No commute, annoying work colleagues apart from Joe (... thanks Dad) and after doing it for 40 years I still love it. But you do the maths we ain't gonna make a cool million anytime soon. But on the bright side our new Aston Martin DB3S is only awaiting its artwork now and about to go into the mould along with the Porsche and MGB. Artwork should be underway next week so new models in about a month, fingers crossed.
As it is coming up to November we will be having our yearly model cull and any model that has not sold much over the last 6 months will be marked to go out of production, so go buy stuff because it might be gone very soon.