Latest news
Maserati 151 coming along nicely 23/09/2021
We have finished making our EE Transporter gearbox 09/09/2021
New Kit now available! 02/09/2021
The 1934 Singer Le Mans is finished 02/09/2021
Our New Firenza Prototype is Finished. 24/08/2021
It's Done! 03/08/2021
News
Ford Pop Van
19/01/2018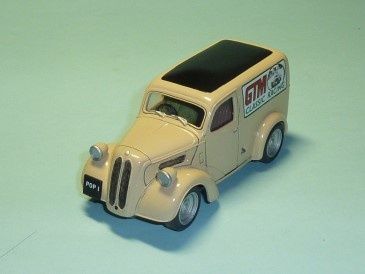 The Ford Pop van will be released begining next week. You will be able to find it on the Trucks and Trailers page, we may be renaming it to include the vans soon. I have not done a lot of protoyping this week as we have had to replace quite a few rubber moulds. So there is now a new mould for the Bizz 1965, all nice and fresh. That's enough about slot cars I think.
Something did amuse me on facebook. You know how people put profound quotes and wise words, sayings etc. up. You then scroll down and five seconds later you have forgotten them. But this one I could relate to, so I have added a bit more to it, sort of sums me up.
The Earth is not flat
Vaccines work
We have been to the moon
Climate change is real
Maths is a universal language
Chemtrails are not a thing
Evolution is a fact
Astrology is just funny
None of us have a Native American spirit guide
Clairvoyants are frauds
Experts know more than the bloke down the pub
Magic is not real
Science is like magic but real
We are all made of stardust
There is no such thing as fate
Things do not happen for a reason
Things just happen
There is no such thing as Karma
Trump is very bad
Lots of things are unexplained
Coincidence is normal
Now some of you might find some of this hard to believe, but no problem. If you want to live in fairy land that is OK, we are all different with different beliefs and I would never try and change that (apart from the Trump bit, if you do not think he is bad you are a fucking idiot, unless you want to buy our models then you are a very clever wonderful person).