Latest news
Important Notice... 05/06/2023
The Beast has proven to be very popular 25/05/2023
Beast of Turin Update 28/04/2023
At last the Beast of Turin is up along with more! 21/04/2023
Lots of new stuff coming along 06/04/2023
At last our 1924 Le Mans Bentley is finished 09/03/2023
News
Cutting and Shutting
25/08/2017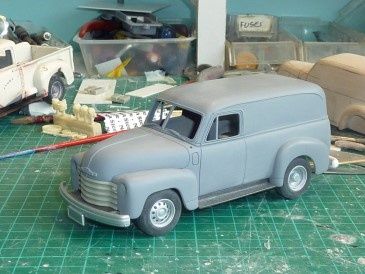 A good bit of old fashioned cutting and shutting this week. An art I mastered at Matchbox in the 70s. Our Chevy van is nearly done and this will definitely be the last evolution of the Chevy Cab. I think this van will be a very useful vehicle for customising with your own liveries and also a great vehicle for towing our trailer.

As it is August and holiday time my new decal sheet will not be done for a couple of weeks at least so the fire engine, Holden, and Texaco tanker are held up. Next week I should get on with the Ford Pop. Well that is the plan at least, and as you know I always stick to my plans.
The rusty pick up in the pictures will be for sale, if you are interested send an email. I may even sign part of it to make you feel special.
Final bit of housekeeping: We are currently waiting on an order of running gear from pendle at the moment, so if you have placed and order with running gear it may be a little bit late. Sorry for the delay and any inconvenience.