Latest news
Marcos is taking shape 23/06/2022
The Mini Marcos is underway again 09/06/2022
A New Painted Special and more 27/05/2022
Online Ordering 20/05/2022
Decals have arrived! 12/05/2022
New Kits and Track Update 06/05/2022
News
Christmas is getting very close
09/12/2017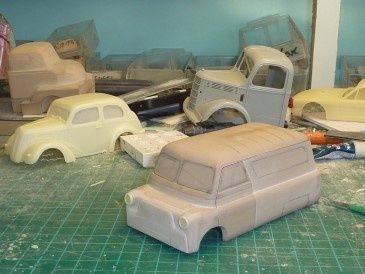 Christmas is getting very close, so get in quick if you want your lovely GTM kit before Xmas. We are actually very busy this year. Well Joe is as he does the kits and posty stuff. I sit in my little workshop filing up bits of tooling board into car shapes. I am easing of a bit but I am getting on with the Bedford CA van a little bit. That will be the first completely new model for 2018. On the subject of vans I got a bit bored and have started on a Ford Pop van. One thing I have learned this year is vans and trucks are just as popular as racing cars but I will be getting back to some racey type cars next year. I usually have about 12 cars in various stages of development and I am down to 5 now so I need to get another 6 or 7 underway. The Chevy Cab Over truck is underway, a little Ferrari 500 F2 is on its wheels and that Cunningham C4RK is almost complete but I just can't get my arse into gear to finish it. The Frazer Nash and Aston DBR1 are also underway.
This Christmas break gives me a bit of time to research new stuff and I've got a couple of ideas but nothing definite yet. A couple of 1930s sports/ racing cars would be nice or maybe a 1920s Le Mans Bentley would make a change from 1930 Blower Bentleys. Mind you no one has made a good one yet, plastic or resin. And maybe I should make a couple of pre first world war cars. I did start one a couple of years ago but it got shelved.
We have produced a hell of a lot of new models this year. A lot more than any other manufacturer, resin or plastic. And all made by hand.
There will be one more new before Christmas then we will be taking a bit of time off and as we do not take a summer break I think we deserve a little RnR.
Remember our last post before Xmas will be the 13th. We are in mad dash mode now to get our current orders finished and good to go.