Latest news
Important Notice... 05/06/2023
The Beast has proven to be very popular 25/05/2023
Beast of Turin Update 28/04/2023
At last the Beast of Turin is up along with more! 21/04/2023
Lots of new stuff coming along 06/04/2023
At last our 1924 Le Mans Bentley is finished 09/03/2023
News
Busy with wire wheels and another Edwardian
01/09/2022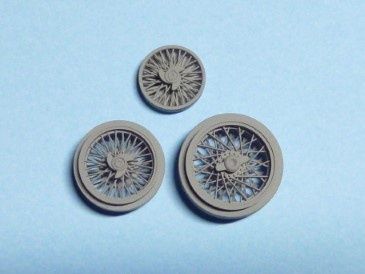 Joe has been busy designing more wire wheels and inserts, we have released another Edwardian wire wheel, this has a flatter design with a central hub instead of the knockoff, so you can have the choice. We have also added a 16" with 3 ear knock off in both wheel and insert form.
Our Volvo PV544 is coming along nicely, we hope to start artwork for the decals next week. While the Volvo prototype is away with the graphics guys I am going to get on with the Austin pedal car. I like this one for its pure novelty value, it is a fun little thing. After that I am hoping to start on my Ginetta G4 but if you know me I never stick to plan.
On a side note, you may have noticed we are very eco friendly here when it comes to packaging. No fancy boxes, but you do get your own little bag which now comes with a nice little lable. This may come as a shock to you but that fancy clear plastic box with all its inlays and screws that comes with certain other name brand firms costs a lot of money. Over the years I have worked for most toy firms and it may surprise you that in many cases the packaging cost more than the model. Anyway, my point is when you buy an RTR from one of the major firms and you notice the price remember up to 30% of the price may just be in the box. I wonder how many models never leave those boxes to see a track.