Latest news
The Owlet is finished/ The Cull Returns 23/11/2023
Another painted special and the owlett underway 09/11/2023
New Kits Available! 02/11/2023
Two more oldies 27/10/2023
1.24 Anglia Now Available! 20/10/2023
Darracq chassis issue 13/10/2023
News
Believe it or not there are no new models this week
19/02/2017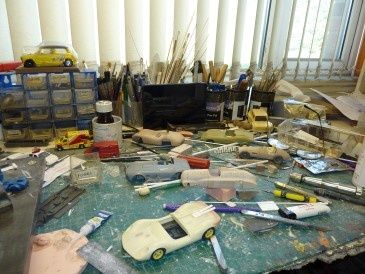 Believe it or not there are no new models coming out this week. Which is probably for the best as the Alfa T33 is proving very popular so if you have one on order please be patient. We are having a little bit of trouble keeping up with demand, we should be up to date by the end of next week however. Honestly it is proving very popular. Also it seems to be a 50/50 split between the inline and the sidewinder and as a result I will have to be making a second mould for the body next week.
I attended the MK slot car swap meet last Sunday, had a good day and again the Alfa and new Lotus 30 proved popular. Thankfully no one annoyed me either. I must be mellowing in my old age. The shows are very tiring, I do enjoy them but I am always knackered on Monday. And Joe isn't happy cus all the stock gets mixed into odd boxes.
I am still doing a bit of contract work but new models are in the pipeline. In fact another is already finished but won't be released for a couple of months. The 1939 Auto Union C-type is also coming along and should be ready by Gaydon. I am hoping a 1952 F2 Ferrari short nose should be released around the same time. I have not forgotten the Frazer Nash, I just seem to get sidelined onto other projects.
Just to clarify I may have misled people with the Alfa T33, I will be doing other versions of the car but not for quite a while yet. Likely not this year. It is not just prototype work that has to be done, but also the decalling as I have mentioned before can be very expensive. So these will be some way down the line.
Someone asked about Barney the Bastard cat the other day, well as you can see he is in tip top condition.