Latest news
Marcos is taking shape 23/06/2022
The Mini Marcos is underway again 09/06/2022
A New Painted Special and more 27/05/2022
Online Ordering 20/05/2022
Decals have arrived! 12/05/2022
New Kits and Track Update 06/05/2022
News
Believe it or not the Alfa T33 Daytona is finished.
20/01/2017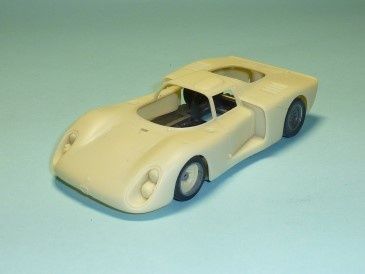 Believe it or not the Alfa T33 Daytona is finished and after a couple of minor tweeks I will be making the moulds this week. With any luck by the next news we should have one finished. These Daytona cars had a coloured section over the right headlight (right if you are sitting in the car). We have the decals for this but if it proves to be a little tricky, mask spraying may be the way to go. The main thing is it is done at last. Hopefully I will be doing the Le Mans long tail version alter in the year.
Due to expense I intend to only do one new decal sheet this year so I have to work out very carefully what goes on it. At the moment the Cunningham Lister, LM T33 and a few re prints will be on it.
The Cunningham C4RK is now on the bench. Most of this model is done so if I get a good run it should be done in a couple of weeks. And as we have the decals there is nothing to hold it up. We even have the wheel inserts for it and on that note I am in the process of making an insert for the Alfa T33.
If I worked out how many hours go into making a wheel insert plus the moulds I would probably cry. But I do it for love. As you can see the first few weeks of 2017 have been very productive, with 2 brand new models out in January alone.
So what is in the pipeline for the rest of the year? Well I still have a couple of half finished models. The Lotus 30/40 is 75% done plus we have the decals. The Aston DBR1 is well on its way and the LM Fraser Nash is blocked out and also has decals good to go. Not an easy model to do but it will fit in nicely with the Allard. I am also considering a Singer Le Mans and maybe a 1930s Aston Martin LM car.
We are also going to bring back a couple of cars. The AC Cobra is to be reworked and much improved but is not a priority at this stage, so will the MGC Sebring (scale version). I have a couple of other ideas but will let every one know in good time just in case there are any overlaps with other manufacturers. If that does happen let me know. A bit of cooperation can go a long way.