Latest news
Important Notice... 05/06/2023
The Beast has proven to be very popular 25/05/2023
Beast of Turin Update 28/04/2023
At last the Beast of Turin is up along with more! 21/04/2023
Lots of new stuff coming along 06/04/2023
At last our 1924 Le Mans Bentley is finished 09/03/2023
News
At last our 1924 Le Mans Bentley is finished
09/03/2023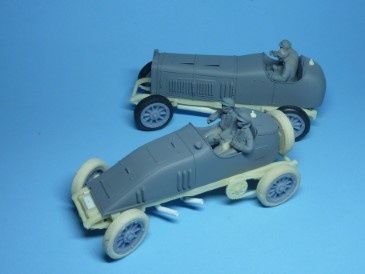 At last our 1924 Bentley Le Mans is finished. It has been a challenge to design this model, there are quite a few parts including new 3D printed wire wheel along with steering. It is available in two version: one with the roof and one with the roof down as it was in the race. It had to race with the roof both up and down.
We have two more Edwardian racers about to go into the mould. they should be ready in the near future. I also have another 4 or 5 in the pipeline. I think that should be enough oldies for the time being.
So what is next? Well it has to be the Ford truck, it is already on its wheels and the prototype has run on my test track so I should get on and finish it.
I will also have four new painted specials going on the car page soon as well. 2 Mk.II Jags, a Lotus Elan and a Frazer Nash. So lots of new stuff.