Latest news
New Painted Special! 26/01/2023
New Kit Available! 20/01/2023
The first news of 2023 19/01/2023
Back to work! 04/01/2023
Seasons Greetings and Happy New Year! 15/12/2022
My first show in two years, new models, and the cull 01/12/2022
News
Another new model
02/02/2018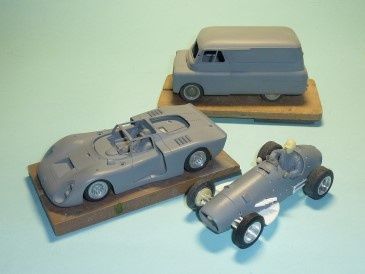 The Archie Scott Brown Lister Jaguar is soon to be on the car page. As mentioned last week this is a new casting and is probably the most iconic colour scheme for the Lister Jaguar.
We now have three, yes three, new models to put in the mould next week including the Bedford van and the Targa Floria Alfa T33, this will have a new chassis which uses our own sidewinder pod, which is moulded from our 3D printed prototype. This means you will not need to buy a SlotIt pod to complete the kit, which will hopefully make things a lot easier. Photos will be going up next week. In the future we will use this pod in all new sidewinder models.
The little Ferrari has about a days work and it will be done. Artwork might hold things up on this one but we shall see. So over the next few weeks 5 new vehicles to release.
Here is an interesting one for you. Since we moved to our new workshop last July we have kept records of our sales and by far the best selling slot car is the Chevy pickup truck. Funny old world.
Next week will be spent making Silcone moulds so not a lot of prototyping but I will be blocking out two completely new models. Not telling what but one is American and one is Italian. You would never guess what though.

So much new stuff, we are on fire