Latest news
New Edwardian Chassis 21/09/2023
Redesigning our Edwardian chassis 14/09/2023
1.24 Anglia moulded 07/09/2023
Three New Painted Specials! 24/08/2023
New Kits Available! 18/08/2023
Back to work 21/07/2023
News
A New Painted Special and more
27/05/2022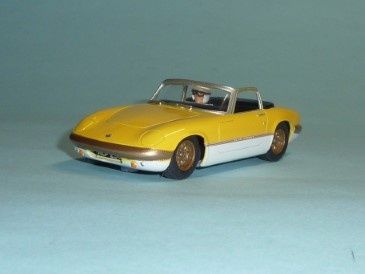 The Lotus Elan Sprints are now finished and up on the car page as well as our new online store. They look very pretty in their two tone colour scheme. They have a scribed line along the sides to help with the mask spraying as well, we like to be helpful like that. The Lotus 19 Group S is also up, this model will allow you to put nice wide tyres on the rear. This version was more common the in the USA I believe.
I have a new painted special up as well. This one is a ready to run Maserati 300S with removable bonnet, and engine detail. A lot of hours spent on this one but a labour of love as this is probably my favourite model that I have produced.
We are also making progress on our MDF tracks, if you are at Gaydon this weekend go see Colin on the RS Slot stand, he will have samples for you to look at along with his own goodies.
A little tip, Pendle Slot have a wheel/ tyre combo that I think is very good value at £5 (PCS-PWTP02)