Latest news
New Painted Special! 26/01/2023
New Kit Available! 20/01/2023
The first news of 2023 19/01/2023
Back to work! 04/01/2023
Seasons Greetings and Happy New Year! 15/12/2022
My first show in two years, new models, and the cull 01/12/2022
News
New models at last
28/02/2020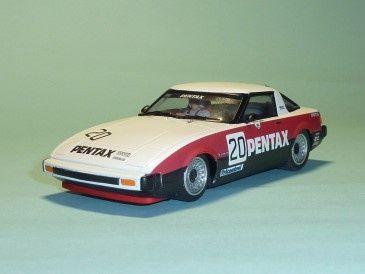 New models at last. Yes we have three new models our group 44 Triumph Spitfire is done and looks very pretty. The 1956 Jaguar Ecurrie Ecosse No. 23 Short Nose D-Type, Reims 12 hour car is done. This will compliment our EE Transporter nicely. The EE 1956 Le Mans winning D-Type is also on its way. These are new castings with a new design chassis. Lastly the 1981 Mazda RX7 BTCC winning car is done at last. We will be putting these up on the car page in a couple of days.
The EE Transporter is progressing well, this will look as good as our Fiat Transporter and hopefully will be as popular. The Triumph Spitfire hardtop is done, we will have photos next week. Next I will be getting on with the Mk.2 Lotus Cortina as for the next few days I will be remaking moulds.
PS. the RX7 has a new wheel insert produced just for this car, these were made for me by Gareth at Chasecars on his 3D printer thingy. They really finish the model off nicely.