Latest news
Important Notice... 05/06/2023
The Beast has proven to be very popular 25/05/2023
Beast of Turin Update 28/04/2023
At last the Beast of Turin is up along with more! 21/04/2023
Lots of new stuff coming along 06/04/2023
At last our 1924 Le Mans Bentley is finished 09/03/2023
News
We are not Amazon!
06/05/2021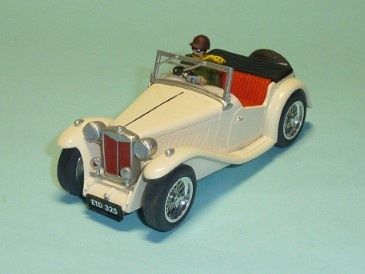 Right you lot, as much as we love you all, some of you have been getting a little impatient when it comes to receiving your models.
So this is a friendly reminder, WE ARE NOT AMAZON! Please remember or listen up if you did not know, it is only Joe and I here, that's it. Two blokes working from home, one of us in a shed in the back garden (Joe got the short straw on that one). I do the prototypes and Joe does everything else. Everything near enough is made to order when it comes in from you as we do not have a large premises to keep stock, or the time and man power to keep making it.
We have a 10x8 shed in the garden and a box room at the top of the stairs and that is the extent of the grand multinational company George Turner Models.
So please remember when you order, we have to make the thing, and if there are a few of them that will take longer for obvious reasons. So it can take a couple of weeks before we can get it sent out.
And then! Then we hand it off to our extremely dedicated and purpose made dispatch department, you may know it as the post office. Now as we are busy the rest of the week getting models made and ready to send, we only get to send stuff out once a week. After which it is entirely up to the whims of the fine people carrying the parcels and then the customs officials who handle it internationally (and who like to steal your money).
Now we've got Amazon Prime as well so we know how nice it is to receive things the next day. And we get upset ourselves if things don't turn up. But please give us a chance to get things made, and if you're an international customer give it a chance to travel halfway across the planet. Those who do, we thank you for your patience.
That said if things don't turn up we don't quibble it and let us know.
In other news, we have some wheel inserts going up on the accessories page. Many of these have been available with a car for a while, but we did not put the listing up. These will be for the Lotus wobbly, RX7, and a few of the group 44s.
Our new MG T series kit should be going up on the car page in the next week. In the meantime I am getting on very well with the EE transporter. I am hoping to have it done withing the month.