Latest news
The Owlet is finished/ The Cull Returns 23/11/2023
Another painted special and the owlett underway 09/11/2023
New Kits Available! 02/11/2023
Two more oldies 27/10/2023
1.24 Anglia Now Available! 20/10/2023
Darracq chassis issue 13/10/2023
News
The Volvo PV544 prototype is done
06/10/2022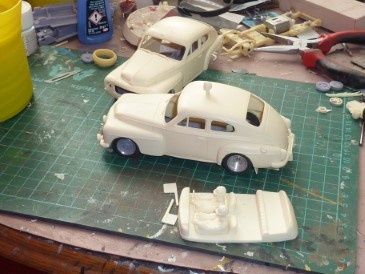 The Volvo PV544 prototype is done and the moulds are made, I have cast a couple up to paint and should have them ready in the next few days. So hopefully up on the website very soon.
We will be doing two versions, the 1964 RAC Rally car (No. 8) and the 1962 Monte Carlo Rally car. Just waiting for the decals to arrive now and we will be good to go.
This may be of interest regarding decals, a major cost in the production of a new model is the price of artwork and decals. For two versions of the Volvo the cost comes in at over £250 (this is just for the artwork and not for printing). So you can imagine what even more complicated or larger liveries may cost. Every now and then we have people ask for custom liveries and such, we can always help in getting these done but prepare for your wallet to be a little lighter haha.
Oh well, best get on with my 1934 Singer, yes the one that raced and Le Mans and the 1924 Le Mans winning Bentley.