Latest news
Marcos is taking shape 23/06/2022
The Mini Marcos is underway again 09/06/2022
A New Painted Special and more 27/05/2022
Online Ordering 20/05/2022
Decals have arrived! 12/05/2022
New Kits and Track Update 06/05/2022
News
Our Jaguar Mk.1 is back!
24/03/2022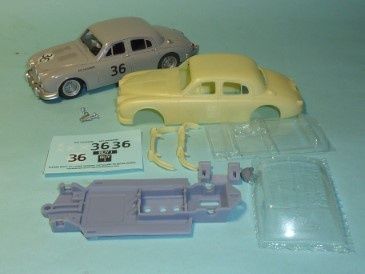 At last our Coombes Jaguar Mk.1 is back on the car page. If you missed it before do not miss out now. This is our first kit with a spangly new 3D designed and printed chassis. So let us know what you think.
The decals depect the famous Roy Salvadori, BUY I car which is now raced most years at the Goodwood Revival (got my ticket for this year). The Coombes Jags look great with their louvred bonnets but if you would prefer the ordinary version you can always sand them off.
Our Lotus Elan is almost ready, we will have photos next week. We are still waiting on decals but hopefully should not be too long. Then on to the Lotus 19 Group S.

The Mini Marcos is coming along nicely along with another couple of new projects.