Latest news
The Xmas Shutdown will be 17th Dec - 3rd Jan 01/12/2021
Important News! THE CULL! 19/11/2021
New Kits now available! 11/11/2021
New Kits now available! 27/10/2021
Our first Sunbeam Alpine model is now available 21/10/2021
All we need is decals 15/10/2021
News
Our first Sunbeam Alpine model is now available
21/10/2021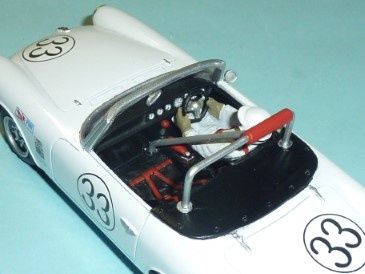 Our first Sunbeam Alpine model is now available and available on the car page. I think it looks very pretty, it is based on a club racer and comes with a full interior, a driver (with legs!), roll bar, and even a gear knob. I am very pleased with the look of this one, a classic sports car of the 1960s.

We are still waiting on the decals for the other Alpines and all the other kits we have waiting to be released but hopefully very soon.
Have been remaking moulds this week so only a bit of progress on the Lotus 19 but still coming along. I am also in the process of remaking the Coombes Jaguar Mk.I to bring back into the range. So once that comes back don't miss out!